Recommendation: Encouraging safe protesting both helps keep protestors healthy and validates the activism. Don't avoid acknowledging the dilemma but focus on sharing tips for keeping safe and support activists in ways that make sense for your organization.
---
Protests have erupted in the middle of the coronavirus pandemic at a precarious moment for public health. Successful physical distancing restrictions and an increase in testing capacity has moved cities and states in the US closer to controlling the virus' spread with the protests representing a potential challenge to upholding these methods.
This leaves communicators facing a legitimate conundrum of how to simultaneously support protests against white supremacy while encouraging behavior that keeps people healthy and does not allow the virus to gain a hold. There is no one size fits all response, but there are some parameters that can help you craft communications that promote justice and health.
Do acknowledge the dilemma
Sharing dilemmas is a key pillar of public health crisis communication related to the need for honesty, transparency and empathy. Acknowledging that the protests create coronavirus concerns is a good starting place. The very act of stating the dilemma promotes the validity of protest as a form social action.
Good examples of this include how health experts have responded to requests for comment in articles about whether the Black Lives Matter protests will cause a spike in COVID-19.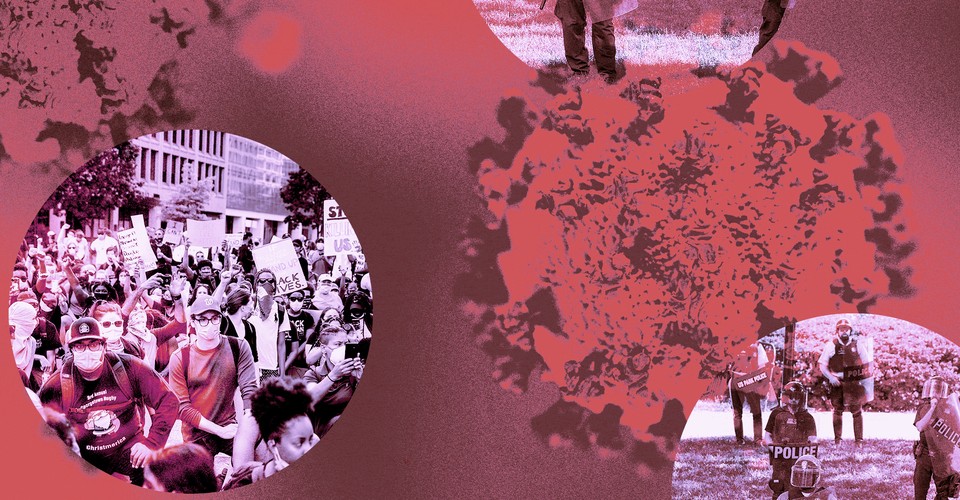 Speaking to The Atlantic, Maimuna Majumder, a computational epidemiologist said, "All things considered, there's little doubt that these protests will translate into increased risk of transmission for COVID-19." Crucially, she added, "I personally believe that these particular protests—which demand justice for black and brown bodies that have been brutalized by the police—are a necessary action. Structural racism has been a public-health crisis for much longer than the pandemic has."
Acknowledging the risk is not antithetical to supporting protests. In fact, acknowledging the risk reminds protestors of the need to respect coronavirus restrictions as much as possible. It also places a responsibility at the feet of police and local officials to mitigate risk of the virus spreading in their response to demonstrations.
Don't sensationalize and discourage
Headlines have conflated increases in COVID-19 positive tests with mass gatherings for protests. Social media monitor Newswhip tracked a story with a headline about new cases and protests that was one of the most engaged on Facebook the day it appeared.
Though the article body does not suggest protests are causing an upswing in cases, the automated social media post does — leading to the high rates of sharing on Facebook. Of course any positive COVID-19 tests caused by the protests will not be measured in tracking data for two weeks. Such headlines can discourage protestors rather than encourage healthy acts of demonstration and resistance, and could be used to turn the public against Black Lives Matter activists.
Weaponizing legitimate concerns about the coronavirus to stifle dissent will greatly decrease trust in public officials and media. This erosion will prove dangerous as they need to share information and issue new directives about public health.
The protests against coronavirus safety restrictions did create an increase in cases but the demonstrators were specifically challenging directives and therefore not wearing masks or distancing. In fact they were weaponizing virus fears to terrorize others.
Health experts support the protests
People must understand why these protests are different than others such as the anti-stay at home protests, and that protesting can be done safely.
The community of health experts have largely endorsed current demonstrations recognizing that systemic inequality represents a grave threat to communities of color.
Nearly 1,300 public health and infectious disease professionals have signed an open letter in support of the protests. The letter does not shy away from noting that predominantly white protests against coronavirus restrictions were rightly condemned because they were not about promoting health and increasing equality.
"A public health response to these (current) demonstrations is also warranted, but this message must be wholly different from the response to white protesters resisting stay-home orders. Infectious disease and public health narratives adjacent to demonstrations against racism must be consciously anti-racist, and infectious disease experts must be clear and consistent in prioritizing an anti-racist message."
The letter goes on to recognize that racism is a threat to public health that must be addressed if we are to stop the march of coronavirus:
White supremacy is a lethal public health issue that predates and contributes to COVID-19
COVID-19 contributes to racial inequity
Even if coronavirus had no connection to issues of race and society, the protests would still be needed and should be encouraged. In this case there is a strong connection, and higher death rates in the black community highlight the urgency of the need for structural change.
The COVID Racial Data Tracker is monitoring how coronavirus is impacting Black communities. The contributing factors are still not clear, but it is known that Black and Latinx individuals are dying at a much higher rate than other ethnicities.
The tracker notes for the United States, "Four of the top five counties with the highest death rates in the nation are all predominantly Black."
Communicators should be armed with the facts about coronavirus as a condition that exacerbates inequality and highlight that a greater burden is placed on communities of color both through the virus and the restrictions imposed to combat it. Clearly recognizing and promoting these realities will also have the effect of increasing trust in your messaging.
Highlight mitigation
Discussions of the risk of public gathering for civil action can appear like implicit or explicit warnings to not protest. The antidote to this, in addition to acknowledging the validity and necessity of protest, is to share strategies for reducing that risk.

Start with the police. There have been many good guides for protestors on staying safe during coronavirus, but these should also include highlighting the burden of responsibility on law enforcement and government officials. A good practice is to first mention what they can do to facilitate safe protests and engender a sense of cooperation instead of competition. The job of the police is not to quell dissent, but to facilitate the people's exercise of free speech safely.
Highlight for police and government:
Wear masks - There are normally strong arguments against police wearing masks but right now not wearing masks communicates: we don't care if we pass the virus to you.
Don't use tear gas and pepper spray - coronavirus is spread when people cough and breath in the aerosolized virus particles. These weapons are designed to induce coughing and gasping.
Do not herd people together - police are taught a practice of 'kettling' and encircling as a basic of crowd control. They must give protestors adequate space to distance.
Do not detain people in confined spaces - placing a large group on buses and in cells creates a major risk of virus spread.
Increase public transport options to protests - facilitate safe transit to and from protest to reduce crowding.
Protestors and especially organizers should encourage and facilitate coronavirus-aware protesting. It must be acknowledged that this is not easy and police and national guard tactics have not helped. Do not blame protestors: encourage and facilitate.
There have been encouraging reports of protestors providing masks and hand sanitizer. Some have engaged in silent protest to memorialize victims of racist policing while reducing the risks created by shouting.
Highlight for protestors:
Wear masks
Maintain physical distance
Wash hands frequently with sanitizer or soap and water
Shouting, chanting and singing increases the range of virus spread
Use noisemakers, drums and signs to communicate
Wear protective goggles
Carry saline spritz
Consider self-isolation if you live with an immunocompromised person
Drink water
The bottom line is when it comes to stopping the spread of coronavirus we are all in this together and law enforcement needs to be equal partners with the people. They have a greater responsibility to facilitate safe demonstrations. Unfortunately lately they have not.
Keep an eye on...
This moment brings a very difficult reality into view: the state is the main entity communicating directives to stop the spread of coronavirus; the state is the actor committing violence against black people.
Two ways we can deal with this dilemma are to emphasize the independence of health services and science-based directives, and to encourage healthy communities with local leadership.
Health departments can show solidarity by following the above guidelines and speaking as a semi-independent voice. Remember that scientists and doctors are regularly rated as the most trusted professions in the world so your words have particular weight. Use them wisely.
In a recent web town hall, Dr. David Nabarro, Special Envoy of the World Health Organization (WHO) Director-General on COVID-19, noted that we are moving into a phase where there will be a greater need for community solutions and leadership in dealing with coronavirus. This is particularly true as the virus spreads into low-income countries and those without strong institutions. But it is also the case when governments lack trust or are failing at their responsibility to keep citizens safe.
Encourage protest leadership to take a level of responsibility and find innovative ways to express their anger while reducing the risk of virus spread. Civil society has a vital role to play.
The Last Word
Overall, reduce the sense of competition and increase cooperation. The dual needs to challenge white supremacy and to stop the spread of the virus are not in competition. They are tightly linked. The work we do to curb this pandemic must be rooted in justice or it will not be successful. Similarly, it should be a joint endeavor to reduce the risk of coronavirus spreading through protests.
Your communication should encourage cooperation, facilitate civic action by people and highlight the increased inequality of the pandemic. Be honest about dilemmas, but do not discourage protest. Health communicators must maintain credibility with the public through this crisis and discuss the reality of coronavirus in order to facilitate safe protests, not suppress them.